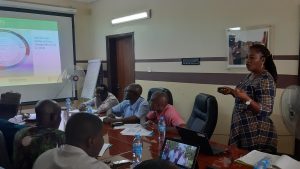 On 26-27 September 2019, the Feed the Future Nigeria Agricultural Policy Project delivered a Policy Communications training to 26 (19 male, seven female) staff of the Agricultural Research Council of Nigeria (ARCN) in Abuja.
The training introduced participants to the concepts of policy communications, the use of social media for disseminating and measuring impact, as well as how and when to use policy briefs.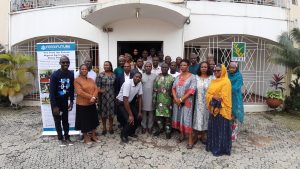 The training was jointly facilitated by Elisabeth Douglas, Communications Specialist for the International food Policy Research Institute (IFPRI) and Dr. Edith Nnemeka, Assistant Chief Agricultural Research Officer (ACARO) at ARCN. Dr. Nnemeka had been a participant in an earlier policy communications training delivered by the project in 2017.
A main objective of this training was to increase the overall capacity of ARCN and by extension, Nigeria's agricultural research system to be able to make available evidence that is required for policymaking and having 26 more staff from ARCN who have the knowledge and skills certainly helps us achieve this objective. However, having participants who have benefitted from previous trainings also demonstrating the ability to share what they know isan  indication that the outcomes of such trainings are sustainable.
The Feed the Future Nigeria Agricultural Policy Project is funded by the United States Agency for International Development (USAID) and jointly implemented by Michigan State University and IFPRI's Nigeria Strategy Support Program.