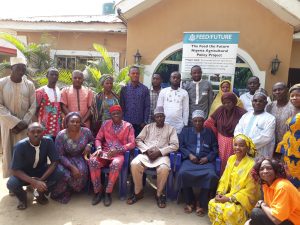 Actors in Nigeria's agricultural sector have increasingly begun organizing themselves into formal groups, particularly cooperatives, in recent years. It is an established fact that cooperation allows individuals to harness their personal resources into powerful tools for change and growth. While cooperatives have the tangible benefit of allowing farmers to have wider access to agricultural support and financial services, an easily missed, yet extremely important benefit of cooperative activity, is its ability to build the aptitude for solving practical problems and influencing their wider community. An essential aspect for the success of a group is its capacity to properly manage its assets, make strategic group decisions and create a balanced level of participation for all its members.
It is in recognition of this fact that the International Food Policy Research Institute (IFPRI) delivered a Group Dynamics training for agro-dealers in Abuja on 11- 12 December 2018, on behalf of the Feed the Future Nigeria Agricultural Policy Project.
The training had a total of 25 participants (18 male and 7 female) representing various agro-dealers based in Nigeria's Federal Capital Territory. The training course covered topics vital to the organization and effective running of a cooperative such as Group Vision and Mission, Working as a Team, Leadership, Communication, Conflict Management and Resolution, Group Decision-making, Group Registration, Mobilizing Resources, Planning and Implementation, and Organizing Records.
This training was part of the activities of the Feed the Future Nigeria Agricultural Policy Project. The project is jointly implemented by IFPRI's Nigeria Strategy Support Program (IFPRI-NSSP) and Michigan State University, and  funded by the United States Agency for International Development (USAID/Nigeria).