On 4-6 June 2018, the International Food Policy Research Institute (IFPRI) facilitated a Monitoring and Evaluation (M&E) training course for faculty and graduate students from various departments of the Kebbi State University of Science and Technology, Aliero. The training course was attended by 26 participants (25 male and 1 female) who were taught the principles of M&E, and how to develop and implement an M&E plan and framework among other topics.
As a result of this training, participants declared that they were now more competent to efficiently manage respective projects at the University.
The training is part of capacity building activities of the Nigeria Agricultural Policy Project, which is jointly implemented by IFPRI-NSSP and Michigan State University with funding from the United States Agency for International Development (USAID/Nigeria).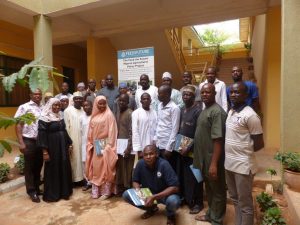 Trainers and participants of the M&E training course organized at the Kebbi State University of Science and Technology, Aliero (c) 2018 IFPRI/Hyacinth Edeh