The International Food Policy Research Institute's (IFPRI) Nigeria Strategy Support Program (NSSP) has trained 28 staff (20 males and 8 females) of the Agricultural Research Council of Nigeria (ARCN) on Policy Communications in Abuja. The training course was held on Thursday, 22 and Friday, 23 February 2018.
The intermediate policy communications training course was built on basic knowledge provided in an introductory training course on policy communications delivered at ARCN in November 2017 and provided participants with a practical framework for designing communication strategies and working with online systems for effective communication. The training focused on developing participants' knowledge and skills to effectively strategize and plan how to communicate program and policy data that can be used to support decision-making within the context of the country's national development agenda and with particular focus on agricultural transformation policy issues. It was aimed at developing skills and knowledge on the role of online systems in effective Policy Communications.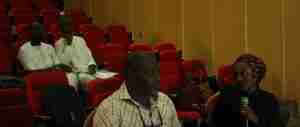 This training was funded by the United States Agency for International Development (USAID/Nigeria) within the framework of the Feed the Future Nigeria Agricultural Policy Project and is part of activities geared towards enhancing the national capacity of Nigerian researchers and analysts to make available evidence in Nigeria's agricultural policy processes. The Feed the Future Nigeria Agricultural Policy Project is jointly implemented by IFPRI's Nigeria Strategy Support Program (IFPRI-NSSP) and Michigan State University.