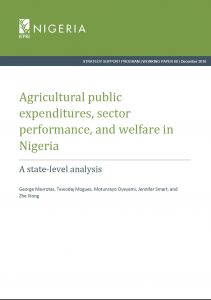 The Nigeria Strategy Support Program (NSSP) Working Paper No. 60, entitled "Agricultural public expenditures, sector performance and welfare in Nigeria: A state-level analysis", and co-authored by George Mavrotas, Tewodaj Mogues, Motunrayo Oyeyemi, Jennifer Smart and Zhe Xiong, is now published.
Building on the work of earlier studies that looked at trends in and returns to federal public expenditures on agriculture in Nigeria, this paper explores spending patterns at the sub-national state level over a nine-year period, as well as trends in agricultural and economic performance and indicators of household welfare. Sub-national agricultural spending as a share of aggregate agricultural spending in Nigeria is large, given the stronger role for sub-national governments in agriculture than is the case in other sectors. However, the authors find that the share of state-level expenditures on agriculture as a share of aggregate state-level expenditures is still relatively low, an average of 3.86 percent over the period 2007 to 2015. While the prioritization of agriculture spending varies greatly year by year, the variation over time does not have a discernible long-run upwards or downwards trend. The authors also find that agricultural expenditures are more capital intensive than are overall public expenditures at state level, but that capital expenditures as a share of total agriculture spending has declined over the last decade, as is the case overall in Nigeria's industrial sectors. They conclude that efforts to strengthen state-level agricultural spending in Nigeria merits greater attention, while putting in place measures to ensure improved effectiveness in any such spending.
The paper is part of the research output emanating from the Feed the Future Nigeria Agricultural Policy Project. The project is jointly implemented by IFPRI's Nigeria Strategy Support Program (IFPRI-NSSP) and Michigan State University with funding from the United States Agency for International Development (USAID/Nigeria).
You can access the paper by clicking here