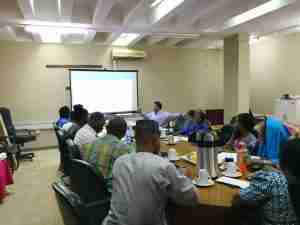 The International Food Policy Research Institute (IFPRI) as part of its capacity strengthening activities in Nigeria under the Feed the Future Nigeria Agricultural Policy Project has further supported Nigeria's Federal Ministry of Agriculture and Rural Development (FMARD) in its move to coordinate the development of an extension policy for the country.
From 14-24 May 2019 Dr Suresh Babu, IFPRI's Senior Research Fellow and Head of Capacity Strengthening worked closely with FMARD's Department of Agricultural Extension (FDAE) in Abuja and Niger State Ministry of Agriculture and Natural Resources on the following areas:
1. Workshop on Extension Policy implementation for FMARD staff that included the Departments of Agricultural Extension, and Planning and Policy Coordination held in Abuja 14 May 2019.
2. A seminar for Directors from the FMARD Office in Niger State, the Agricultural Development Programme and Niger State Ministry of Agriculture and Natural Resources on 15 May 2019.
3. A workshop for key stakeholders on Extension Policy Implementation in Niger State with participants from various organizations along the value chain including research institutions, farmers' organizations, processors, policy makers, extension agents etc.
4. A consultative meeting with Directors from Niger State to finalize the Extension implementation plan for State.
5. A presentation to the Permanent Secretary and all the Directors of the FMARD of the pilot implementation plan for the National Agricultural Extension Policy.
Mrs. Karima Babangida, Director of Extension at the FMARD, in expressing her thanks stated that "Through these activities, the Department has been able to sensitize the key stakeholders on the policy objectives, shared information with the various public and private organizations intervening in extension system and consulted with a variety of stakeholders on implementation design. This process was inclusive, and will no doubt promote ownership of the policy and its implementation."
She expressed that FMARD was confident that it could now carry out an extensive mapping of the various actors and their activities in Niger State with a view to identifying the gaps that require attention and, to finalize the implementation design for Niger State.
Since 2018, IFPRI has been working with FMARD on building its institutional capacity to develop of the Extension Policy for Nigeria with previously organized workshops in February and May 2018 held in Abuja and Zaria, respectively.
These have been part of the capacity-strengthening activities of the Feed the Future Nigeria Agricultural Policy Project which is funded by the United States Agency for International Development (USAID/Nigeria) and jointly implemented by Michigan State University and IFPRI's Nigeria Strategy Support Program.